Peter's high school years were filled with national political drama and social change and he carried a camera everywhere, shooting for his local newspaper and becoming active in the anti-Vietnam War movement, photographing demonstrations in Cambridge and Boston and Washington DC.
For awhile he thought he might become a photojournalist. But eventually Peter opted for the money, glamour, and girls of software engineering, and settled into a comfortable suburban existence. By the 1990's Peter's gritty black and white examinations of the changing American scene had devolved into Kodacolor vacation snapshots and threatened to fade completely to pastel fluff.
Then, while traveling in Italy he attended a dance photography workshop taught by Lois Greenfield at Toscana Photographic Workshop Tuscany. This was his first introduction to studio photography.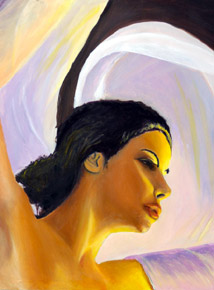 "In the studio", Lois said, "You don't take a photograph; you
make
a photograph!"
And there in ancient Castle Bibbiano, amid olive groves and vineyards Peter was introduced to models and students from all over the world, and Broncolors and other gear and he began to
make
photographs.
The same Italian trip also introduced Peter to painting. While in Firenze he visited the Uffizi, the Bargello, and the Academia, where he saw what he had been missing with the simple line drawings that had comprised his art until then.
Painting, studio photography, and recently, poetry, have given Peter many ways of creating art. He especially enjoys combining classical forms and themes and traditional media with the most modern technology and digital tools.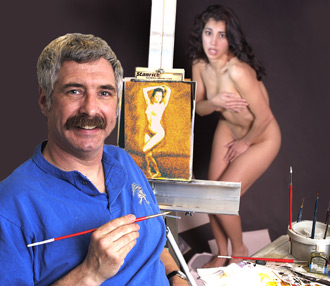 In 2005 he rented space in an old mill building in Lowell Massachusetts and invited his models there for sessions involving fashion, glamour, dance, and the unadorned figure.
And, these days, he finds opportunities in his art to test the narrowing limits of a 21st century America gripped by fear, war, and cultural conservatism.
Peter lives in Chelmsford, Massachusetts, USA, and is a member of the Arts League of Lowell and the Chelmsford Art Society. This website is the online version of Peter Nelson's studio - an eclectic and cluttered collection of past work and current inspirations.